Invisalign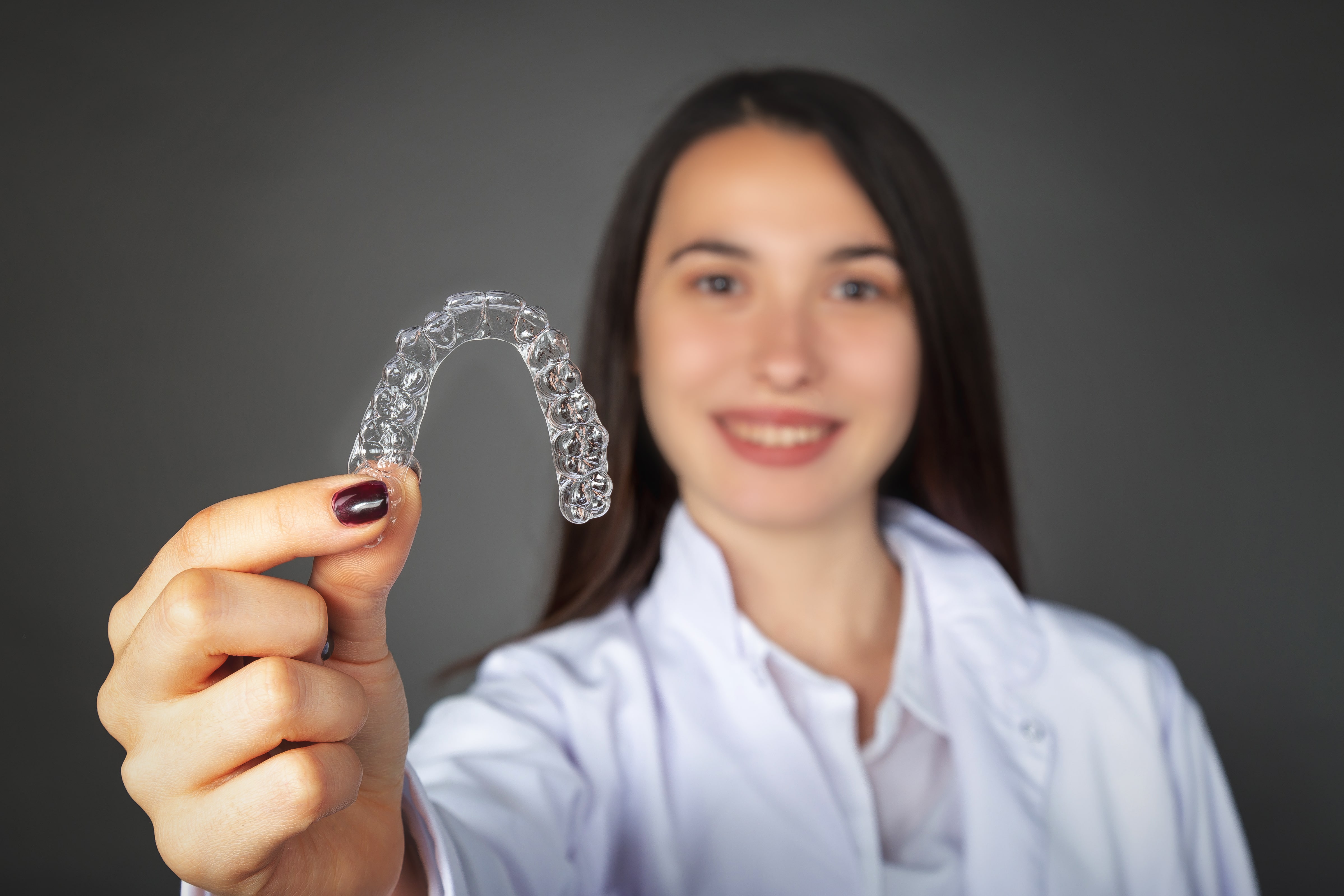 Want to have straighter teeth and a more even smile, but don't want to deal with the hassle of metal braces? Invisalign may be the right treatment for you! Invisalign is an orthodontic correction system that uses almost invisible trays to gently align teeth. These trays are worn at all times except when brushing, flossing, or eating. They are custom fitted to an individual's teeth, so they are hardly noticeable, yet they make a big difference.
How does Invisalign work?
With Invisalign, you will receive custom fitted aligners made from a thermoplastic material that is carefully molded to the same of your teeth and gum line. Every so often, you will receive new aligners that will slowly move your teeth into their new positions through something called controlled force. These aligners must be worn at least twenty two hours a day to be effective, which means they are worn at all times unless you are eating, brushing, or flossing.
Do I have to make changes to my diet or avoid certain foods?
Unlike braces, that have braces and brackets that can be broken by eating certain foods, Invisalign can simply be removed during mealtime. This means that you will not be restricted from certain foods, since you just remove your aligners to eat.
Does Invisalign hurt?
Invisalign uses something called controlled force to move your teeth. This can cause you to feel pressure or minor discomfort the first few days of wearing a new aligner, however the discomfort levels are said to be less than those associated with traditional braces. Also, you don't have to worry about your aligners rubbing or irritating your mouth like brackets would. This means no putting wax on brackets to avoid sores in your mouth.
How long does Invisalign take?
While every Invisalign treatment is dependent on the individual, the average length of treatment is approximately twelve months for adults. This duration has more variation in teenagers though, since the mouth is still growing during the treatment. The best way to get an approximation is to book a consultation with Dr. Laudie.
How often to I have to visit my dentist for adjustments?
Generally speaking, most dentists schedule appointments approximately every four to six weeks to evaluate their patient's progress and make adjustments if needed. However, this does depend on your individual treatment plan.
How do you clean Invisalign?
To clean your aligners, simply remove them from your mouth and brush them like you would your teeth. Invisalign tends to be much cleaner than traditional braces since you remove them when you're eating and food cannot get lodged into them the same way it can with traditional braces. In short, Invisalign aligners are very easy to clean.
Will I need to wear a retainer after treatment?
Yes. In order to preserve your new smile, you will need to wear a retainer. At first, it will need to be worn all the time, but eventually you will only need to wear it at night. There are options to have invisible retainers made in place of the traditional wire retainers if you prefer that.
Am I a candidate for Invisalign?
If you have crooked or crowded teeth and you are looking to correct these issues, then you might be a candidate for Invisalign. Schedule a consultation with Dr. Laudie today to find out if clear orthodontics are the best option for you.